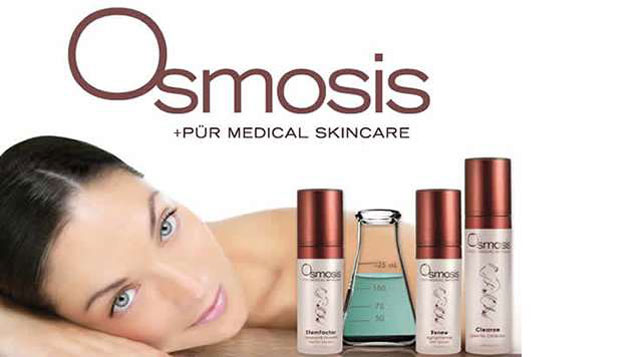 Face Care
Osmosis Medical Skincare
Osmosis is the pioneer in offering products that truly partner with the skin to create results without imflammation. Most products deliver temporary changes, while osmosis works to provide long term improvements required to maintain optimal skin.
Whether you are looking for anti-aging remedies, rosacea relief or acne issues, indulge in one of our custom blended facials to meet your skins specific needs.
Medi-Facial $75
Feel the diffeence in your skin with our Certified Organic and Botanical facials. Thesse treatments give you an unparalleled facial that will promote repair and remokeling in the skin while restoring it's radiance and beauty. Your end result is healthier more lustrous skin.


Facial Infusion $85
Experience our exlusive signature dermal rejuvenation.
Facial infusion is non-chemical peel delivering long term skin benefits, to gently resurface the skin. This unique fromulation increases circulation, delivers nutrients deep into the skin, boosts immunity and stimulates collagen production. Your skin will immediately be transformed!
Medi-Infusion $95
If your skin desires a boost of rejuvenation, moisture for firming, this treatment is for you! A powerful non-chemical peel customized with actives. Your skin is not always the same, so why treat it the same. Infuse it for superior results!