Lash Extention Special with Liz!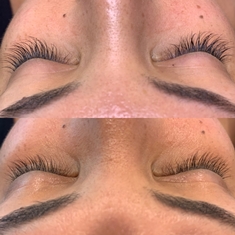 As Liz continues to train with our other lash technicians, we will be offering a special price for new lash clients who would like to have this service at an amazing price.
Regularly $275 Special Offer $150
You will need to commit to three (3) follow-up lash fill appointments with Liz every 3 weeks to receive this offer!
.
Call now for this great offer! 717-737-3553
Stylists in Training Savings!
Katybeth and Sam, our creative stylists in training, would love to take care of your haircare needs and gain more experience along the way! They will have guidance from our senior stylists during your required consultation. This offering is only for new clients to Elle Salon.
A free consultation is required for all color services prior to the scheduled appointment. Haircut/style appointments can be scheduled same day.
Please call 717-737-3553
Prices are as follows:
Base color $60 (Goldwell)
$70 (Oway Organics)
Thicker hair $10-$20 extra
Partial Foil $50 and up
Full Foil $80 and up
Custom Balayage/Ombre $120 and up
Extra color or bleach added through ends $20
(Price will be discussed at the consultation)
Haircuts
Women $40
Men $27
age 13 and younger $25
Click here to view Katybeth's Bio