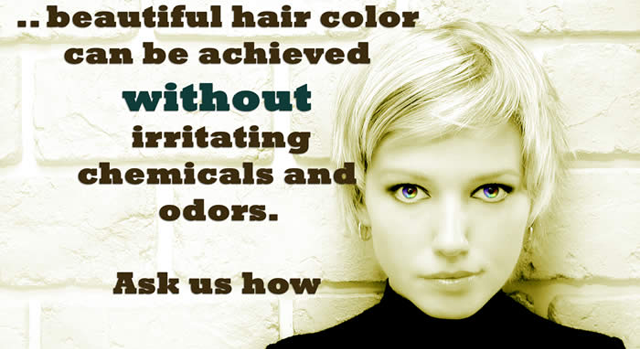 About Organic Color and Oway
No ammonia, or Ammonia Derivatives

No formaldehyde or Formaldehyde Derivatives

No Diamine Toluenes or any other PTD's

No Plastics (Plastics Free Styling)

No Sodium Laurel Sulphates (SLS)

No Thioglycolates or parabens

Full spectrum of bio-dynamic plant based ingredients

Packed with certified organic ingredients

Rich in anti-oxidants, and nutrients
The Organic Movement is overtaking the professional hair color market. As of now there is not a 100% organic hair color other than Henna on the market(which doesn't cover grey hair 100% or has any lifting ability), but we at Elle Salon are always looking at companies who are on the cutting edge of the most natural/organic color line that can cover 100% grey hair and after our extensive research Oway is definitely heading in the right direction!
Organic Way (Oway) is the world's first professional 98.6% natural/organic hair color, care and styling line with biodynamic organically certified with fair trade ingredients.
We can create infinite natural tones and exciting fashion colors with this extremely flexible line designed to unleash the artistry of the hair colorist.
This 100% ammonia-free hair color maintains the hair's essential moisture and protein levels, so the hair is not damaged by the coloring process.
As the most natural, organic, vegan and cruelty-free line worldwide, this revolutionary hair color minimizes the use of questionable ingredients while maximizing its overall performance.
Their green chemists hand select the highest quality formulations to achieve professional results without the use of common salon toxins.
Oway lets us immerse our clients in a multi-sensorial, non-toxic experience with active botanicals and pure essential oils.
From Farm to Chair
Oway's organic salon products take root on our family's biodynamic farms in Bologna, Italy – where Italian quality meets nature.
Oway insiders call it OrtOfficina.
Here, they grow, pick and distill pure organic extracts, essential oils and hydrolates with zero chemicals, in accordance with biodynamic farming standards.