Hair Extension Services
Hand-tied (Sew-in) Extensions Mane Method or Concealed Bead Method
| | |
| --- | --- |
| Wefts | $200-$700+ (based on number of wefts, length and color) |
| Installation | |
| First row | $200-$210 |
| Second row | $100-$150 |
| Third row | $75-$100 |
| Mini row | $50 |
| Removal | $50 |
Installation is every 8-12 weeks
Hair replacement is every 6-12 minths depending on haircare.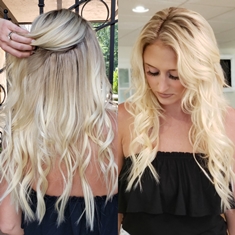 Hand-tied Weft Extensions adds the perfect amount of length, fullness and thickness while blending seamlessly throughout your client's hair. They require no remover, nor do they leave behind any residue during the removal process.
Hand Tied Wefts are a one-of-a-kind method, sewing each weft onto a track of silicone beads. Our unique approach to the application process ensures the integrity of your client's hair. Its customizable design creates a naturally flawless look with incredible flexibility like a lazy-day top-top knot or a formal updo!
Tape-in Extensions
| | |
| --- | --- |
| Hair | $120+(based on length and color) |
| Installation | $200 (includes cut) |
| Re-installation | $250 (cut not includeed) |
| Removal | $50 |
Hair may be reused up to 3 times with proper use.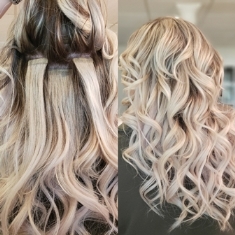 Tape-Ins provide length and volume and blend easily into hair.
This revolutionary method installs in as little as 45 minutes, so you'll be looking fabulous in no time. And because it's so speedy, it will save you precious time and money. The medical grade adhesive is designed for hair, so with proper care, tape won't weaken until you're ready to remove it with the help of our trusty Tape-In Bond Remover.
I-tip Extensions
| | |
| --- | --- |
| Hair | $100+ (base on length and color) |
| Installation | $300 |
| Adjustment | $90 |
| Removal | $50 |
Hair may be reused up to 3 times with proper use.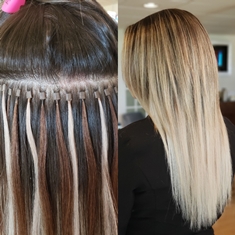 Every strand of your hair will be enhanced with the 360 degree movement of I-Tip Extensions. You might not know what to do with your hair's volume, length, and versatility. That's okay. Wear it up or down, the beads are easy to hide--especially since they come in five fabulous colors.
I-Tip installation is a snap! Microbeads are clamped to securely hold each hair extension strand in place. This method has absolutely no chemicals, no glue, and no heat.
Flat-tip Extentions
| | |
| --- | --- |
| Hair | $135 (based on length and color) |
| Installation | $300 |
| Adjustment | $90 |
| Removal | $50 |
Hair may be reused up to 3 times with proper use.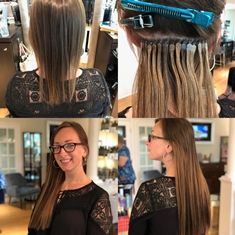 Get the best of the I-Tip and Tape-In methods in one double-duty extension! These babies lay flat and smooth, just like Tape-Ins, but install with the adhesive-free beads and the 360 degree movement of I-Tips. The natural look and comfortable feel work perfectly for seasoned hair extension-wearers and newbie clients alike!
Flat-Tip extensions install just like I-Tips; just use our microbeads to clamp each hair extension strand in place. This installation method uses absolutely no chemicals, glue, or heat.
If you are looking for non-permanent extensions, then Elle Salon has two options availible to order that any of our stylists can custom match to hair!
Halo

Couture Hair Extensions

$350-560
Clip-In Extensions
$170-$230
All new hair extension applications require a consultation prior to installation. All purchases of hair extensions through Elle Salon are non-refundable and have to be installed by Elle Salon.
Color Match Policy: Each client receiving extensions may need custom coloring to match your natural or desired hair color. This is an extra charge that will be discussed at your consultation. If color is needed, then only Elle Salon's stylists can custom match. We will not guarantee a color match if we do not do the color service. If you bring in your own hair from a previous salon, we are not responsible for the integrity of the hair with color services.
Cancellation Policy:
Hair Extension services and Hair Extension services with Color require a significant amount of time and effort on the part of our staff (sometimes as much as 6 hours), and cancellations for these services create a large gap in the staff's schedule that, most times, cannot be filled (especially last minute cancellations). As a result, the staff member loses a significant amount of income. This is their livelihood. Therefore, we are implementing the following policies for deposits on these services:
Down Payment Policy:
Services requiring 2.5 hours or less of time:
$100 deposit plus the cost of extensions if needed.
Services requiring more than 2.5 hours of time:
50% of the total estimated services plus the cost of extensions if needed. This fee is still applicable if appointments need to be broken up because of booking issues.
Hair Extension Cancelation Policy:
We require 48 hours for cancellations on all hair extension services (with or without color) to receive your deposit back.
No Shows:
Any Client that does not show up for their appointment will forfeit their total deposit and they will have to put down another deposit to reserve a future appointment.
Care Policy:
As discussed in your consultation, taking proper care of your extensions is very important for the longevity of this service. Carefully brushing the hair daily, especially in the nape area, is very important. Do not go to bed with wet hair. Braiding your hair before bed will help to alleviate matting. This is an investment that you will need to care for diligently. Also, avoid sunscreens that contain Avobenzone and Octocrylene, which can cause discoloration (pink tone) to extensions that are lying on your shoulders and back. Keep your extensions out of chlorine as they too can cause discolor to the extensions (green tone). This is an investment that you will need to care for diligently.
I-tip and Flat-tip policy: It is completely normal to lose up to 10 extensions in a 4-6 week period. We will not do any adjustments beyond 4 weeks if it is less than ten extensions lost. If you have more than this amount, we will only fix those that have fallen out. Very fine hair around the nape area is more prone to this issue. Hand-tied extensions may slip at the nape area and we will adjust them up to 4 weeks if needed. After that time period we will charge you based on time at $30 per half hour. If your hair becomes matted due to improper care (see care policy above), we will charge $30 per half hour to untangle it.
*By booking this appointment you acknowledge that you understand and will abide by this policy.